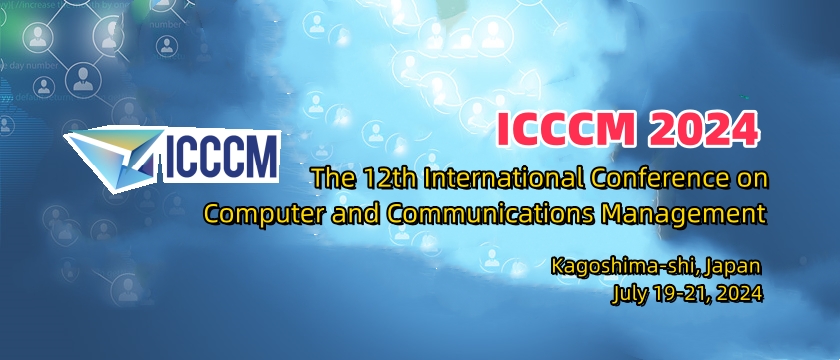 We are happy to announce that The 12th International Conference on Computer and Communications Management (ICCCM 2024) will be held in Kagoshima-shi, Japan during July 19-21, 2024. ICCFI 2024 is a workshop of ICCCM 2024. Featured with keynote speeches, invited speeches, oral presentations, poster presentations and social networking event, ICCCM 2024 welcomes the participation of anyone who is interested in the related fields.

All papers will be strictly double blind reviewed by the program committee, and accepted papers after proper registration and presentation will be published in the International Conference Proceedings.

The conference is open to public (one needs to register first). In general, there are 4 types of participants to this conference, which are given as follows:
1. Authors (presentation with publication)
Making a presentation at the conference and publishing the paper.
* Submit your Full Paper (no less than 8 pages) via Online Submission System.
* Template Download

2. Authors (presentation only)
Making a presentation only at the conference without paper publication.
*Submit your paper abstract (200-400 words) via Online Submission System.

3. Listeners
Participating in the conference only without presentation or paper publication.
*Register directly via Online Registration System, the conference secretary at icccm.org@hotmail.com will contact you after receiving your registration.

4. Sponsors / Partners
If you are interested in sponsoring or cooperating with ICCCM 2024, please contact us at icccm.org@hotmail.com.