Okayama is located in the heart of Western Japan and offers smooth access to many major tourist destinations.

Conveniently Located between the Popular Tourist Destinations of Kyoto, Osaka and Hiroshima!








Fruit Kingdom Okayama

Grown in Okayama's sun-soaked earth, the local fruits offer unparalleled flavor, fragrance, and sweetness.
Come and taste Okayama's seasonal fruits, from white peaches to Muscat and Pione grapes!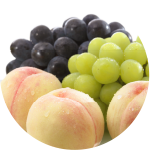 Peach and Grape Picking: If you'd like to pick peaches and grapes, and then eat them on the spot to your heart's content, don't miss visiting the many fruit farms Okayama has to offer.

Fruit Parfait: Many of Okayama's hotels, cafes, and restaurants offer a wide variety of parfaits topped with seasonal fruits.
Experience Japanese History and Culture

Okayama Prefecture is dotted with buildings that bring the landscape of historic Japan to life as well as
beautiful tourist spots that offer untouched landscapes. Experience Japanese culture through matcha (green tea) and dressing up in kimonos.

A Rich Variety of Natural Attractions

In northern Okayama, visitors can enjoy beautiful nature by experiencing a wide variety of natural landscapes that change with the seasons, and numerous hot springs. In southern Okayama, the many beautiful islands dotting the Setonaikai (The Inland Sea) and the sun setting among the waves are just a few of the superb views visitors can find.
More information, please visit https://www.okayama-japan.jp/en/